Back to Chats About Air Guns
Pyramyd Air expert product information on AirForce Condor PCP Air Rifle air rifle, 0.25 cal.
Mike asked Which is the better rifle, the air force ultimate condor pcp air rifle or the benjamin marada in .25 cal?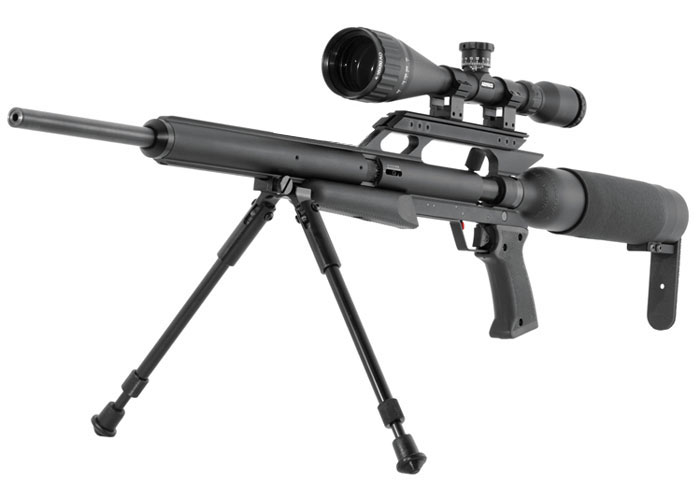 AirForce Condor PCP Air Rifle air rifle, 0.25 cal
669.50
Visit Product Page
Customer

Mike

Pyramyd Air Needler

Richard L.
Hi, how can I help you today?
---
Do you have some product related questions I can help you with?

which is a better rifle,
---
the air force ultimate condor pcp air rifle or benjamin marada in .25 cal

I think I can help you with that information!
---
Can I get your name please?

mike

Can you tell me what you were going to be using the rifles for?

target and shooting rabbets. Will use it in WYO in wid open spaces.

And are you looking at these in 177 or 22? I assume 22?

defenettly not 22. .25 cal is best fir varmets.

I agree that 25 is a better choice for hunting.
---
I think hands down you are going to have a better experience with the AirForce!
---
Were you considering a purchase today?

is the air force as accurate as the Benjamin?

A rifle is only as good as the shooter, but the AirForce rifles are known to be excellent and consistent performers.
---
Do you have much experience with PCP rifles?

I have a feinwerkbau 300s , and r1, the pcp is why i am going to purchase the gun

The FWB 300 and R1 are some of the finest rifles in their respective classes... you are going to be entering a similar class by choosing the Airforce

no, but what i read pumping it is a pian at 3000 psi. the hand pump is the first step i guess

Well, you can choose to use a hand pump, but there are other options for filling, like using scuba tanks or filling at sporting goods stores like Dicks...

I need a spell checker. I really enjoy the 300s and am spoiled by its accuracy. The PCP are also accurate.

Hhahaha... Dont worry about spelling with me... I dont mind in the least.
---
I have several match guns myself, including 2 Tech Force BS4s which are Chinese clones of the FWB 300

I will look into getting a scuba tank.

For now you can fill the gas at Dicks or Gander Mountian... The scuba tanks we dont carry but we have 88 cu ft. carbon tanks...
---
Can you see the one I added to the discussion?
---
Are you planning on making a purchase?

I apreciate your advice. I will get the air force ultimate condor pcp air rifle and maybe the Maranda after I discover oil in my back yard,,, or maybe get it for my wife's birthday//

I ask for 2 reasons... 1) we get points for assisting in completed sales, and 2) i would be glad to keep the chat open in case you have questions during checkout.
---
Hahahaha, your wife has expensive taste in guns for you?

The airforc ultimate condor pcp is bundled for 1580, but i am not interested in .77 or 22 cal. .20 and .25 are the only caliber i would consider.

The 25 seems to be in stock...

great.
---
I do not plan to purchase the air force ultimate condor pcp air rifle yet until after I find out what our company will give in bonus this year. It ranges from 500 - 1000. If do not get as much, I would just get the Condor and then the accessories as I get extra money. I can get my foot in the door around $500.

It is really an excellent rifle... and I think you will find the power difference between the PCP and the FWB 300 impressive. But you understand the investment apparently?
---
That is, you see that there is an investment in filling as well as for the rifle?
---
But once you have a good PCP setup, it is a much different shooting expereince than your typical break barrel

I will get a tank later. I have also looked at 50 caliber air guns that shoot deer and hogs. So down the road I would want something that would be used on both air gun systems.

Well, the larger caliber will still use the same tanks for filling.

I have a beeman P1. I would also in the furture get a pcp air gun.

You also would probably be better NOT getting the Airforce package and just buying a scope separately.

I have a real good scope for my Finewerkbau air rifle that i used for mini sniping - I could use it. Scope need to be more rugged for spring air rifles, is this the case for pcp air guns?

That is a great question!
---
PCP guns have much less recoil.
---
The springers have 2-way recoil (and sometimes 3)... so the scopes actually need to be more robust for springers, even if they have less power.

Excellent since I have a leopold scope I bought for a ruger .204 that I did not get.

Did you know that ALL Leupold scopes are springer rated according to the manufacturer?
---
They also have that lifetime warranty, so if they fail you can get repair/replacement.
---
Do you know which Beeman that is?

Great. I have the Beeman scope that adjusts for paralex also.
---
Not off hand, but is was a real nice scope. It had sharp optics.

Well, those are the important features! Not every scope will appear sharp, and sometimes it doesn't have to do with price... know what I mean?

what I can do now is purchase the basic gun and get the rest for Christmas, father's day etc. I would not be using the gun much until I go back up to Wyo to visit my relative's ranch in the summer.

Hey, at least you would be able to practice with it a little!

I need to win the lotto except I do not gample. This is an expensive hobby to go the pcp route.
---
You can interchange barrels.
---
I plan to get the 0.20 cal later on.

Yes... I got my first PCP this year -- or about a year ago.
---
I had plenty of springers and other rifles...
---
It was an enlightening experience.

whch one did you get?

I got the Cometa Lynx. I was selling Cometa products for a while and they just came out with it.

On my wish list is the air arms TX200 mark 3. Is there anything better than the condor in the 600 price range?

I was torn between the Air Arms TX200 and the HW97k... I got the latter and regret it now.

In PCP the best in the $600 ish range? Should i check out the Cometa lynx?

The Lynx is a great rifle. The price went up 300 dollars though!
---
Another I would consider around 600 dollars is the hatsan BT65
---
hatsan is sorta new-ish here in the US, but they are one of the top manufacturers of airguns in the world.

I have not even considered if Anschutz or Fineverkbau makes PCP guns.

Well, those would be very different things... The FWB and Anschutz would be match rifles, less power, and built just for target.
---
The Airforce and Hatsan and Lynx are higher power and more for hunting and take-down power.

Good point. I have the 300s Finewerkbau and am interested in the 100yd higher power air guns in .25 Cal. I read an intersting artical written by Beeman who did not care for the .77 or .22 cal but liked the 5mm and .25 cal best. also the reviews on the 22 cal Beman was not as good as the .25 cal. the Maurada .25 barrel is built by green mountain instead of benjaman.

Yes, there will be nuances of this sort in some guns. 25 cal will generally be more efficient though, you know?

That is why one get more energy out of the larger caliber.

The efficiency and increased power come from the same power plant...

of the airforce, cometa and hatsan, Which has more power and accuracy. If the accuracy and power is similar, i will stick with the airforce

I think you will find that the Condor and Hatsan have somewhat more power... The Lynch is a little more finesce. Like I said, I was surprised to see the price jump 400 dollars
---
sorry 300 dollars.
---
That is about 50%, and I am not sure what the justification is.
---
The AirForce and Hatsan both claim to throw .25 lead at 1100 fps!!
---
That is some serious power for a pellet gun.

currency exchange make Germans guns more expensive. I lived in Switzerland 2 years and the 1 got 4 franks, Now it is around 1-2.

Well, there is also the issue where the Germans do not make it easy to import/export guns.

Shipping anything from Germany cost an arm and a leg.

There are also gun laws that make it prohibitive.

I think I will go ahead and get the
Airforce starter - and get the rest after I see how much I get from my bonus.
---
Thanks for your help.

It is a great little gun! Like I said if you wouldn't mind leaving the chat open, I earn bonus points for sales.. And I will be here if you have questions.
---
Anything else I can help you with?

Sure. I just purchase the gun online with the chat left open?

Next bonus I will get the ruger 204 or air arms tx200 mark 3. but from what I read, pcp is so much beter i may never get another spring gun.

never say never ;-) I have 35 guns now... I think I thought 3 were enough at one point ;-)

One gun I have is a 5mm remmington rim fire. I am looking for Kindle or anschutz thomson center to come out with a new rifle.
---
The 5 mm is the best small varmet out there. Plus thay make ammo for it.

I got my HW97k in .2 / 5mm and it is a good go-between
---
Do let me know if you have any questions as you progress ok?
---
Everything going ok in the checkout process?
---
Are there any questions I can help you with?

I am checking out now. Thanks again for your help.

Hey, great talking to you! And Enjoy that purchase. I know you will!
---
Hello... you stuck on something?
---
Anything I can help you with?

HI, USED AMAZON TO PAY BUT GOT A SUBMIT ERROR 1018. i CAN USE PAY PAL BUT WILL HAVE TO LOOK UP MY PASWORDS.

Well, as long as the session doesn't close I'll be here. If you check in now and again to keep the session open I get credit ok?

i WILL TRY AGAIN

Great. Let me know if I can help ok?
---
Mike, are you making better progress this time?
---
Mike, thanks for the order! Enjoy it all and hope we'll see you again here on live chat!
---
Anything else I can help you with today?
---
---